Mr. Pedro Bennett, previously a police officer, has been an educator for over 20 years. He taught middle and high school (Science) as well as the university level (Critical Thinking).  He has a BS in Chemistry, Masters in Education and completed all postgraduate course work in Organizational Leadership / Conflict Resolution (ABD).
Mr. Bennett is the President/CEO of Venn Leadership and Consulting, LLC, Martialartsnow.com and the founder of Venn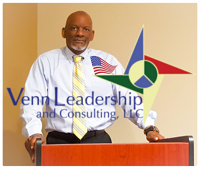 Kempo Jujitsu Methods. Mr. Bennett is currently a contract investigator (federal level). He has been actively involved in the martial arts for over 30 years. He is a member of the American Jujitsu Institute and the World Head Family Soke Council, holding terminal titles as Grandmaster, Professor and Soke.
Prior to being an educator, he was a police officer in the metro Atlanta, Georgia area in the 90's. It was after working in the Organized Crime Unit that he recognized how important feedback and conflict resolution played in resolving complex problems.
In the classroom, Professor Pedro Bennett uses best practices, the understanding of cognitive discovery, conflict resolution, positive feedback and motivational strategies in a holistic manner to create a learning environment that addresses his students' needs. Professor Bennett believes that theories are great; however, theories lose their value if the theories do not add value to the classroom. Prof. Pedro Bennett seeks real answers for real problems. He has taught in the Boston, Brockton, Hanover and New Bedford School System (All in Massachusetts), as well, as in the Charlotte Mecklenburg, North Carolina and the Cobb County, Georgia, School System.